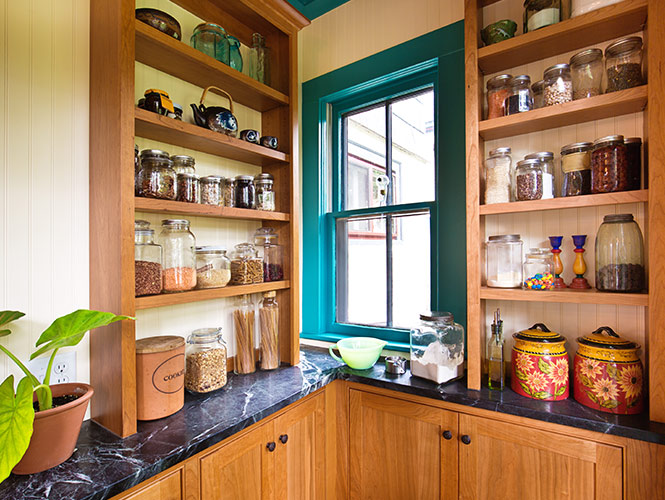 Quick and Easy (Mostly) Shelf-Stable Meals
During these uncertain times, picking the right groceries to stock your fridge and pantry shelves can be challenge. Selecting a variety of shelf-stable foods and combining with fresh ingredients, when available, is a great way to be prepared and to eat healthy at the same time. Try these meal ideas from pantry staples you may already have on hand from Food City Registered Dietitian Elizabeth Hall.
Breakfast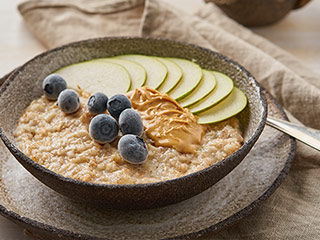 Peanut Butter Oatmeal
Simple, filling and delicious. This spruced up version of a morning staple will get you ready for the day. just combine Old Fashioned or Quick Cooking Oats, Peanut butterand Honey or 100% maple syrup.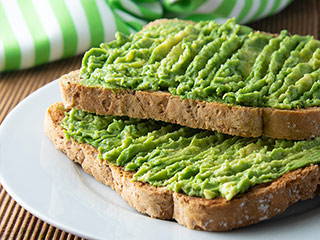 Avocado Toast
Two ingredient breakfast: avocado and whole wheat bread. Sometimes simple is just better. Layer on additional toppings for a super-star start to your day. We suggest red pepper flakes, bacon bits and Everything seasoning.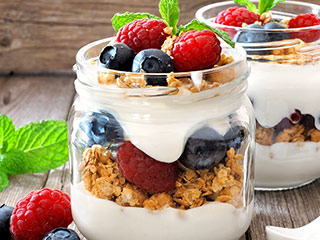 Blueberry Walnut Parfaits
For a quick and satisfying high-protein breakfast, layer Greek yogurt with berries, nuts and granola.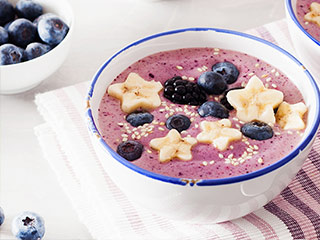 Fruit and Veggie Smoothie Bowl
What is better than a refreshing, healthy smoothie? One you can eat ith a spoon. Blend up your favorite smoothie ingredients, pour into a bowl and top with energy boosting toppings.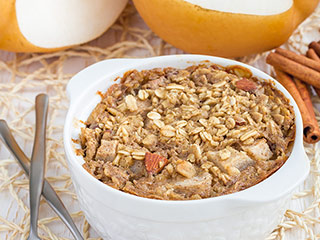 Oatmeal Bake
Go beyond ordinary oatmel with this warm and comforting take on a breafast classic.
Lunch & Dinner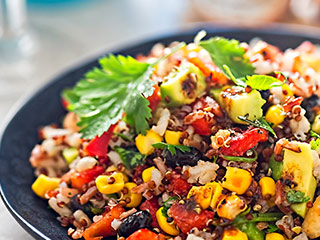 Vegetarian Burrito Bowls
Vegetarian Burrito Bowls are quick, easy and extremely delicious. Ready in minutes, this healthier recipe makes for a great family friendly weeknight dinner.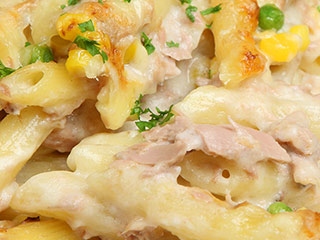 Tuna Noodle Casserole
Simple pantry staples combined into a dinner time classic: Tuna Noodle Casserole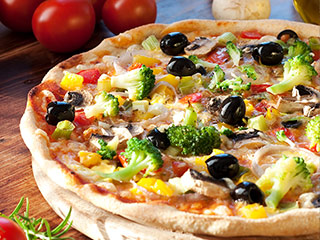 Homemade Pizza
Pizza in a flash with a little help from premade pizza crusts. Just top with sauce cheese and your favorite pantry supplied ingredients such as mushrooms, spinach or diced vegetables.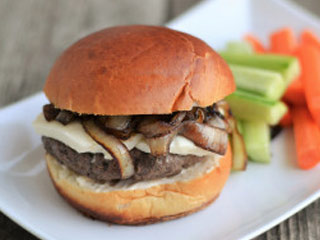 Blended Mushroom Beef Burgers
Extend how far your ground beef or turkey will go by blending it with mushrooms. Not only will this stretch your supplies (and not your budget), the mushrooms boost the burgers flavor while providing an extra serving of vegetables.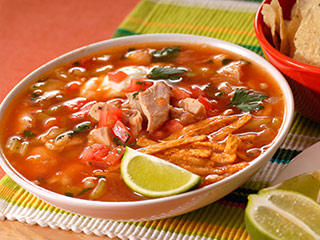 Chicken Tortilla Soup
About as easy as it comes, this version of chicken tortilla soup utilizes pantry staples, canned goods, to create a close-to scratch made tasting soup that will satify your hungry crowd.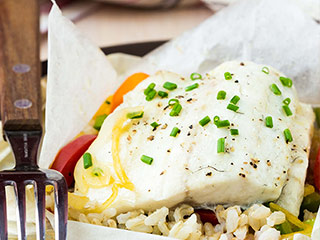 Baked Fish with Vegetables and Rice
Frizen fish and vegetables are a great option for a quick and healthy dinner.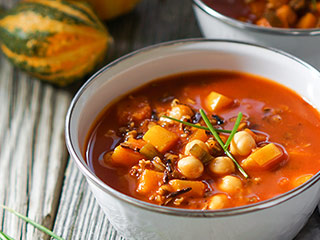 Easy Vegetarian Chili
Hearty, healthy chili is only a few minutes away with the help of a few canned goods from the pantry.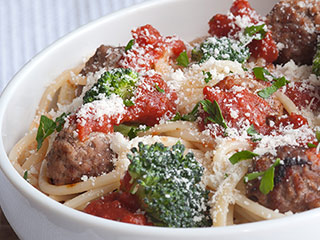 Spaghetti with Meatballs and Broccoli
Spaghetti with meatballs and broccoli makes for a simple and hearty meal ready in no time. Roast the broccoli and meatballs fro extra flavor.
---
Stock Your Pantry Right
for a solid foundation for any meal
Whether you are looking to make these featured recipes or just stock your pantry here are a few suggestions for long-lasting ingredients to keep in the pantry and fridge. With the right ingredients on hand a delicious, nutritious and healthy meal every night of the week is just minutes away.

Aisles
- Old Fashioned or Quick Cooking Oats
- Granola
- Honey or 100% Maple Syrup
- Peanut butter
- Dried fruit (bananas, cranberries, raisins, apples)
- Ground flaxseed
- Whole wheat bread
- Bacon bits or pieces
- Walnuts
- Powdered Milk, Instant
- Brown Rice
- Whole Wheat Pasta (spaghetti, penne)
- Chicken or Vegetable Broth, low sodium
- Pre-made pizza crust
- Pepperoni
- Whole Wheat Bread Crumbs
- Grated Parmesan Cheese
- Whole Wheat Hamburger Buns
- Condiments
Frozen
- Fruit (blueberries, mixed berries)
- Spinach
- Meatballs (beef or turkey)
- Chopped Peppers and Onions
- Mixed Vegetables
- Broccoli
- Fish (cod, tilapia, salmon)
Canned and Packaged
- Pears in juice or water
- Black beans, low sodium or no salt added
- Kidney beans, low sodium or no salt added
- Garbanzo beans, low sodium or no salt added
- Cannellini beans, low sodium or no salt added
- Corn, no salt added
- Diced Tomatoes, no salt added
- Tomato Sauce, no salt added
- Pasta Sauce, low sodium
- Salsa
- Jalapeños
- Diced Green Chilies
- Chicken, in water
- Tuna, in water
- Sliced Olives
Dairy/Juice
- Nonfat or lowfat yogurt
- Lowfat sour cream
- 100% Orange Juice
- Nonfat or lowfat Milk
- Shredded or block Cheddar Cheese
- Shredded or block Mozzarella Cheese
Meat/Seafood
- Lean Ground Beef or Turkey
Spices/Seasonings/Baking
- Red pepper flakes
- Taco seasoning packet, low sodium
- Italian seasoning
- Everything seasoning
- Cinnamon
- Salt/Pepper
- Dried or Freeze Dried cilantro
- Garlic Powder
- Chili Powder
- Oil or Cooking Spray
- Aluminum Foil
Fresh Produce
- Lettuce
- Spinach
- Avocado
- Mushrooms
- Onion