Brew House Growler Station

Food City Brew House
powered by the Growler Station
Large selection of craft beer, micro-brews and ciders fresh out of the tap, just as the brewmaster intended.
Brew House locations
920 North State of Franklin Rd. Johnson City, TN 37604
284 Morrell Road Knoxville, TN 37919
5604 Hixson Pike Hixson, TN 37343
3801 Tennessee Ave Chattanooga, TN 37409
8634 Highway 58 Harrison, TN 37341
1199 Oak Ridge Turnpike Oak Ridge, TN 37830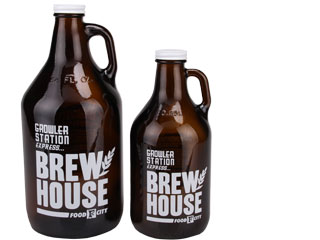 What is a Growler?
A Growler is a refillable glass or plastic container use to take home fresh craft beers, straight from the tap, for your later enjoyment. The Brew House features a large selection of local, fresh hand crafted beers and ciders to choose from.
---
32 and 64 Oz. Bottles
The Freshest Craft Beer to go, ready to be taken home and enjoyed with friends and family. Our 64 oz growlers offer almost a half gallon of the freshest craft beer. Looking for a little less? We also have a 32 oz growler. Growlers are available in both plastic and glass options.
Capped Freshness
The cap seals the Growler to ensure not only that there is no beer spillage, but also to guarantee that your beer stays fresh. When counter pressure filled, the cap seals in the freshness and seals out the oxygen. The combination of such factors will result in a superior tasting growler.
Fresh Craft Beer
At its core, this is what The Growler Station is all about, fresh craft beer served the way it should be served. We are capable of offering this long lasting freshness through our unique counter pressurized filling systems, which pressurize the growler with CO2, eliminating all oxygen before being filled with beer.
Amber Colored
The darker coloring with UV inhibitors put in during the molding process of the growler protects the beer inside from excess light and UV exposure, factors which generally tend to break down the beers' integrity when coming in contact with one another.
Refillable & Reusable
The fun, smart and eco-friendly way to enjoy your favorite beverage. Buy our reusable growler once, use it over and over again each time you visit your favorite Food City Brew House location. Make sure to wash your bottle after each use and you're guaranteed to enjoy each fill to the fullest.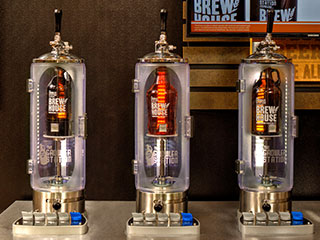 The Freshest Beer
The core of the Brew House growler station is all about our passion to deliver the freshest craft beer to go, straight from the keg, ready to be taken home and enjoyed responsibly. The resealable Brew House growlers preserve the beer's freshness, making growlers the perfect solution for parties, sporting events, picnics, camping or to keep the freshest craft beer in your fridge. Since they are resealable, growlers allow for enjoyment of your favorite beverage in multiple sittings. No need to finish it all once you open it.
---
Fast Foam Free Filling
Standard growler filling procedures always result in excessive foam, increased waste, and an overall messy experience. With our counter pressure filling technology, waste and foam are eliminated, producing a longer lasting, better tasting growler.
Longer Lasting
Standard filling equipment delivers a growler of beer that loses it's integrity from the moment it's poured, resulting in a short shelf life of about 2-3 days. Our process retains the exact same environment from the keg to the growler, therefore never allowing the beer to begin breakdown. The result is a growler of beer that lasts for weeks versus days.
Superior Tasting
Yes, not only longer lasting, but also superior tasting. Purging the oxygen in the growler and replacing it with CO2 before we fill it with beer allows for the perfect mix of CO2 saturation. Mixed with air-tight filling, you receive a fresher, better tasting growler.
Current Promotions
Growler Happy Hour
Get $3 off any 64 oz growler fill up between 4-7pm EVERYDAY!
Events
Be sure to check our events page to keep up with Tap Takeovers, Pint Nights and other special events at our Brew House Growler Stations.